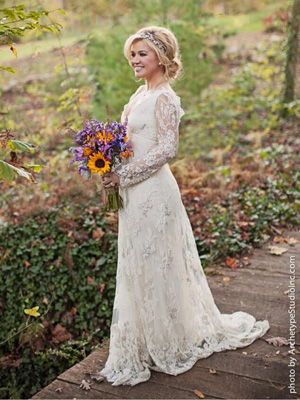 ArchetypeStudioInc.com
Kelly Clarkson's "big white dress" engagement photos were so lovely that we were extra-excited to see the real deal on her wedding day — and then secretly a little disappointed when Clarkson hinted that she might elope, with no wedding dress pics for us to gush over.
But Clarkson didn't leave us hanging. Though she may have tied the knot under the radar this weekend, she shared a few glimpses at her beautiful gown and headpiece (and she looked so pretty, who could blame her for wanting to show off a bit?).
RELATED: All the latest on celebrity wedding gowns!
Unlike the frothy look seen in her engagement shots, Clarkson's Temperley Bridal "Jessamine" wedding dress had clean lines that skimmed her shape. Silvery floral appliqués accented the romantic lace overlay and the sleeves had covered buttons at the wrist. Though the dress was modest, deep V necklines at the front and back framed her face and highlighted her blonde updo, which was accented by a jeweled Maria Elena headpiece.
Read More