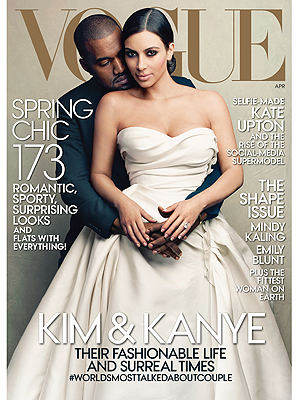 Annie Leibovitz/VOGUE
After months of speculation, Kim Kardashian has finally landed her first Vogue cover. And she's not alone. The reality star joins fiancé Kanye West for the magazine's April issue shot by Annie Leibovitz.
Kardashian, 33, wears a gorgeous strapless Lanvin gown and poses with West's arms wrapped around her for the shot. The rapper looks ready to head down the aisle as well in a navy suit. The coverline? #worldsmosttalkedaboutcouple, which is hard to argue with considering the duo's whirlwind relationship and presence in the fashion world.
North, 9 months, also joins her stylish parents for the shoot (as seen in the behind-the-scenes clip below) set to West's "Bound 2″ hit.
"Annie and Grace Coddington [Vogue Creative Director] we're so impressed with how professional Kim was," an industry insider tells PEOPLE. "They all laughed throughout the shoot and had so much fun." Read More