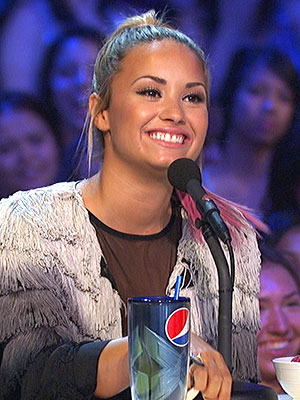 There have been many buzz-worthy moments on the X Factor so far, but we've been slightly distracted by something else: Demi Lovato's gorgeous hair and makeup on the show. The girl looks flawless (suppose it helps that she's 20 and has fabulous skin), and we really can't stop staring.
So what's her secret? Aside from that awesome complexion, it's her hair and makeup team: Johnny Stuntz and Jill Powell.
"I pick out what I want to wear — makeup, nail polish," Lovato recently told PEOPLE. But Stuntz and Powell provide that extra oomph.
"She has great personal style, and we just draw on that," Stuntz tells PEOPLE. "She just really represents what a 20-year-old girl is like right now. She's just really young and hip."
Powell agrees. "She's a chameleon — she can do anything with her hair and makeup," she adds.
To get Lovato's complexion really glowing, Powell usually starts with a bit of concealer and a BB cream, "or a really hydrating foundation to keep her skin aglow," she says. There's also a lot of experimentation, especially with her lip colors. "She likes to change her look a lot — it's fantastic," Powell shares. "She embraces new trends, so oftentimes I'll show her something and she'll be like, 'Oh my god I love it,' and then we try it."