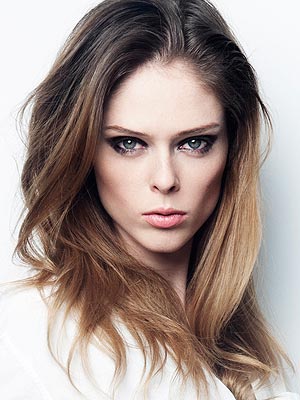 Courtesy Coco Rocha
Meet supermodel (and star of 'The Face') Coco Rocha, who's sharing her experience filming the high-stakes modeling competition on Oxygen. Rocha, Karolina Kurkova and Naomi Campbell each select four girls to compete on their team, with losing teams submitting models for elimination each week. In her third blog, Rocha reveals her team's latest trials and gives solid advice to wannabe models. 
This week's episode of The Face starts out with a quick-change challenge. Runway models often have two or more looks in a show, leaving us mere seconds backstage to throw on the next look and walk the runway. The girls are all done up in heavy red lipstick and slicked hair — the perfect look to be totally messed up in a hasty change. Karolina teaches the challenge and sets the bar mighty high by changing into a runway look in just 41 seconds.
Timing Is Everything: Team Naomi's Zi Lin goes first with a time of 1:18, which she says is not good enough for her. Aside from being a magnificent beauty, Zi Lin is refreshingly humble in this competition — something some of the other girls could definitely learn from. Devyn of Team Karolina beats her time with 1:09, but Margaux (Team Coco) beats her by two seconds and wins a $5,000 shopping spree. Devyn complains that it isn't fair because Margaux "wasn't completely composed," which a slo-mo recap proves to be false. Karolina is not impressed with her teammate's poor sportsmanship and lets us all know it.
A Surprise Move: On a Sunday afternoon when we aren't shooting, I'm called in unexpectedly to see my girl Marlee. She tells me that her family is facing financial difficulties back home and she needs to leave the competition. This comes as a total shock to me but at the end of the day family always comes first, so I completely understand and respect Marlee's choice to leave.