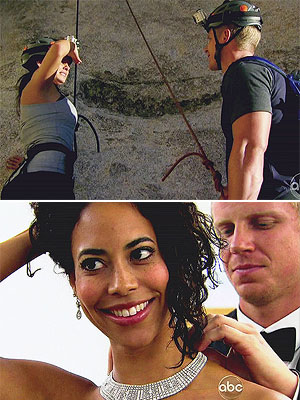 Sean & Selma; Sean & Leslie
If we were betting women, we might guess that the Bachelor contestant who was showered in diamonds and dresses and taken by limo to a romantic restaurant would fare better in the competition than the ones wearing sports bras and minimal makeup.
But as last night's elimination proved, that wasn't the case for the ladies vying for Sean Lowe's heart — and N.Y.U. sociologist Anna Akbari has thoughts on why.
"The theme of this episode was an interesting juxtaposition of 'sporty adventure' and 'Pretty Woman glamour'," Akbari says, "which brought out strong emotions in the girls."
For early fave Selma, getting her out of her favorite six-inch heels and into rock-climbing shoes and workout gear helped Sean see another side of her, which appealed to him thanks to his "multi-faceted personality," Akbari says.
Leslie H., on the other hand, was treated to a Badgley Mischka shopping spree and a 100-carat Neil Lane diamond-and-platinum necklace to wear, so being rejected was all the more crushing for her.