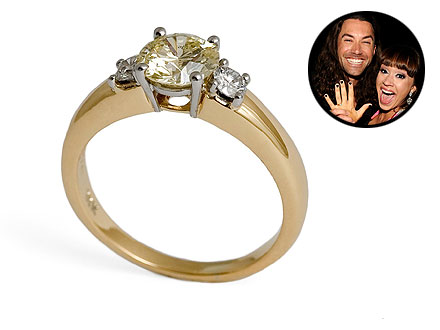 Courtesy David Webb; Inset: Frank Micelotta/Picturegroup
What a gem! For his surprise proposal on American Idol Wednesday night, Ace Young selected an 18-karat yellow gold, platinum and diamond engagement ring to present to longtime girlfriend Diana DeGarmo.
The David Webb sparkler, which features a 1-carat fancy yellow center stone, also boasts two side diamonds weighing .2 carats.
Young helped to design the ring, after hearing DeGarmo drop a hint. "A month ago, she said, 'Gold needs to come back,'" Young told PEOPLE after Wednesday's finale. "I was like, 'I agree,' so mental note. Her favorite thing is a sunflower and she loves yellow, so one of our dear friends [helped me] put together a ring that has a yellow diamond, a gold band and two smaller diamonds on the side that are clear, so it's like a sunflower."