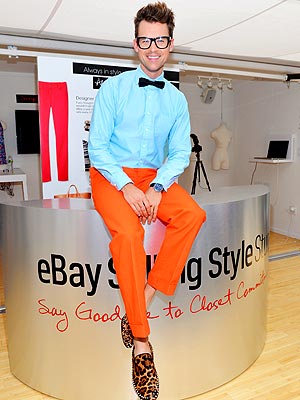 Mike Coppola/Getty
Unfortunately, we can't call Brad Goreski our personal stylist like Jessica Alba and Christina Ricci can, but luckily he shared some of his stylish expertise with us. The fashionable man-about-town recently chatted with PEOPLE about his latest business venture.
The Bravo star has teamed up with eBay's "Chic Squad" to offer fashion advice on selling your stylish stuff via the online marketplace.
"People have this idea that it's complicated [to sell items on eBay]," Goreski told PEOPLE. "It's so easy though — it's just four steps."
First, describe your item with as much detail as possible; then take photos — including several detailed shots — in a well-lit area; third, research to see how other similar items are priced; and last, list it. Goreski said that top sellers include designer denim and shoes. "A pair of J Brand jeans sell something like every four to six seconds," he revealed.
Before all of that, however, you have to clean your closet. "It's important to allow new stuff to come in," the Kate Spade brand stylist said. "I'm guilty of [holding onto unworn garments] — I'm like, 'I wore this to blank and I want to hold onto it' — and I think it's about being honest with yourself and taking stock. I find it therapeutic."