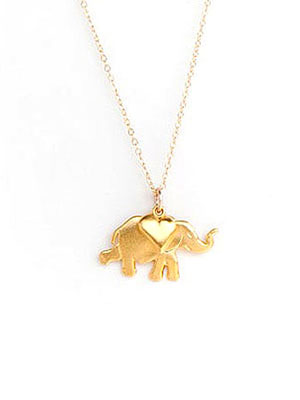 Courtesy Elephant Heart Jewelry
You've been busily bookmarking our gift guide, but this December, we're also going to draw your attention to great gifts that also give back — to the community, to children, to the world around us. Check them out, and share your favorite gifts that give in the comments.
Are you still trying to find that perfect gift that strikes the right balance of meaningful and stylish? Look no further! We found a great accessory that can make a positive change in your wardrobe and in the lives of thousands of foster children. The Elephant Heart Charm Necklace, sold by Elephant Heart Jewelry, is a favorite of celebrities including Carrie Underwood and Camila Alves, and it's sure to be a hit with the A-lister in your life.
RELATED: More gifts that give back – right here!
Each handmade-in-L.A. Elephant Heart charm gives back to its community year-round, particularly in programs to assist children and veterans. Most recently, the line partnered up with the L.A. Department of Children and Family Services Juvenile Court Shelter Care Program to start the Holiday Book Project, which provides children with two new books to bring home from its "library." For every order, from December 1st through December 31st, Elephant Heart will donate one book per order to the cause.
Read More