Ugly Christmas sweaters are so last year. This holiday season, it's all about festive accessories that stand out even more — particularly for the hairy hipster dudes in your life. That's right, we're talking about Beard Baubles.
What?! you ask, dropping your accordion and twirling your mustache. Yes, you heard us: Beard Baubles are a mini metallic ornament-shaped accessories that attach to men's facial hair with bobby pins, and they're taking the Internet by storm. And it's all for a good cause.
Grey London, the ad agency which concocted the festively fuzzy doodads, came up with the idea to benefit Beard Season, an Australian charity that raises awareness for melanoma by asking men to grow out their beards during the winter months.
So to help the cause, and because we secretly love the weird holiday accessory, here are three bearded celebs — Matthew McConaughey, Ryan Reynolds and Jared Leto — and one who's not (Harry Styles) trying out the Baubles. We may have created these images with scissors and glue sticks, but aren't you totally sold on this happening in real life? We're partial to Leto's take on the trend, but Styles looks as if the facial hair ornaments were made with him in mind.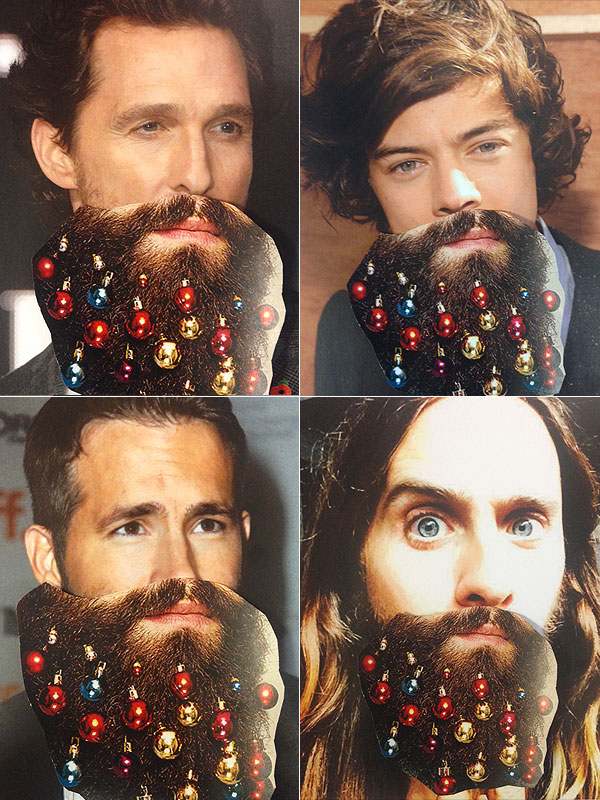 Courtesy Grey London; Getty; Landov