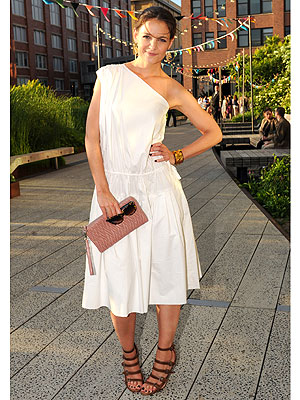 Neil Rasmus/BFAnyc/Sipa
We all know Tabatha Coffey, Bravo's sharp-tongued Aussie style pro, from her stint on Shear Genius and her latest hit, Tabatha Takes Over. And now, she's bringing her talents online, joining us at PEOPLE StyleWatch once weekly to dish on some of the best – and worst – celebrity looks of the week. Keep in mind the opinions below belong solely to the stylist … though she's probably saying what lots of you are thinking, anyway!
Today, she takes on Katie Holmes, who was going for "breezy and effortless" at a summer bash — though Tabatha doesn't think she achieved it.
Hey Katie, the invitation to Coach's party at High Line said it was a "summer party," not a "toga party."
Seriously folks, what the hell is she wearing? It looks like she swiped some white table bunting from a banquet hall and got dressed in a taxi cab. Strike that. Actually, Katie looks like she is wearing her first assignment from the "Sewing for Beginners" class she took at Francine's Craft World.
RELATED: Check out more star style in "Last Night's Look!"
Read More