Welcome Allison McGevna, 31, of Inside Allie's World, who is joining us as our resident curvy-girl style blogger. She was featured in the December/January issue of PEOPLE StyleWatch and contributes her thoughts on finding the perfect outfit to the site each week. This week, she gives us insight on creating a stylish winter look around a chic statement coat. (And if her items are sold out, we've linked to similar styles below — happy shopping!)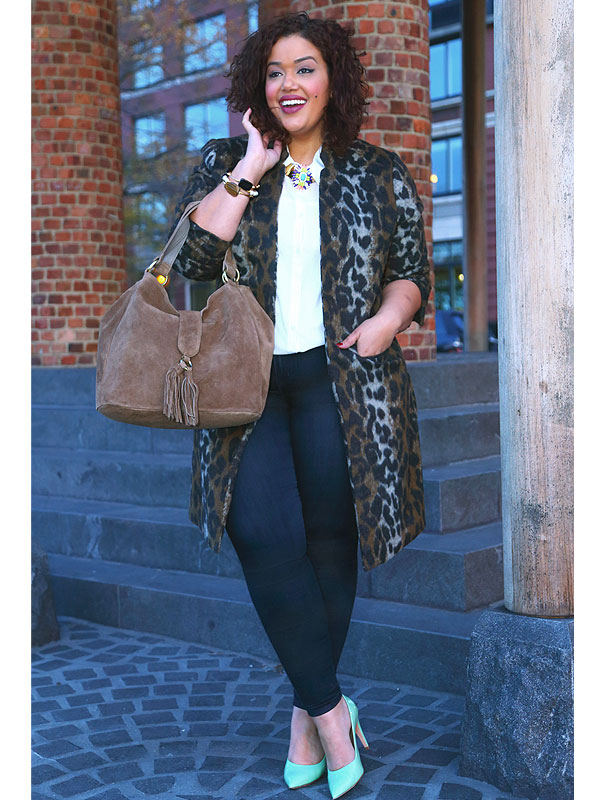 Courtesy Allison McGevna
Sure, winter is about covering up, but that doesn't mean you can't still look stylish and sexy! It all starts with statement outerwear, like this leopard coat from Ashley Stewart. It looks expensive but it's actually only $120 — not bad when it comes to a nice coat! I love the sleeves on this coat. They're long but loose enough to be rolled (an easy way to show some skin without being overly revealing). Plus, the coat has a fuller shape to it and the print is obviously pretty bold, so rolling up the sleeves is also a nice way to prevent the coat from feeling overwhelming. Because it's such a statement piece, I stuck to solid colors elsewhere. And because the coat is fuller in shape, I wanted to keep everything else pretty classic and slim-fitting. First things first, I reached for a white button-down from Simply Be. It fits my size 14/15 top-half perfectly. A perfect-fitting white button-down should be a staple in every girl's closet, no matter your size! Because I'm kind of an in-between-y size, I do sometimes shop in straight-size departments, but with button-down tops, I always go plus. Curvy girls (and even non-curvy girls), I think we've all been in a situation when that too-small button-down shirt finally pops open! Not cute. So, even if you have to size up a bit, go for an option that fits you comfortably.
RELATED: See even more wardrobe tips from Allison here!
My Torrid skinnies are a bit higher-waisted, so I opted for tucking in my Simply Be top in order to show off my waist. I'm an hourglass shape, so this is something I love to do, especially when I'm wearing some looser fitting layers like my leopard coat. You never want to lose your shape in layers! Skinny jeans from Torrid are so comfy. They're made with some stretch and this pair hits right at my ankle. Some skinnies tend to bulk up on me at the bottom, but not these. No tailoring necessary!
Heels paired with skinnies is such a great way to give a lengthened look to your legs. These DVF shoes (similar style) are so fun, and the pastel shade really lightened up the outfit and made it feel less severe. I chose a Fashion To Figure necklace (similar style) that was cut a little wider so I could layer it over my button-down. My Tea House Jewelry bracelets (style one and http://www.teehousejewelry.com/product/pearly-triton-bangle) come in customizable sizes. And this Simply Be suede bag is so luxe, spacious and helps ground the leopard print. It's also big enough to carry a pair of flats if you don't feel like walking in heels all day!
Do you own a statement coat? If so, what does it look like and what do you wear it with? Sound off below!