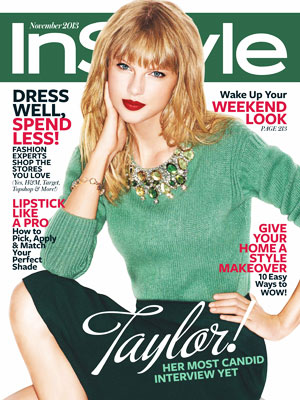 Courtesy InStyle
You think you know Taylor Swift, but you have no idea. Well, okay, you probably do, since the 23-year-old singer pours her heart out on her very personal albums and can often be spotted expressing herself (oops!) at awards shows.
But the singer reveals a more mature side of herself in November's InStyle, on stands now. She touches on a wide range of topics, from having a ton in common with Lena Dunham to whether she can actually have guy friends, as well as sharing how she's evolving in fashion and in flirtation.
RELATED PHOTOS: Amazing star style that we can't stop talking about!
First off, she discusses whether she's been trying to amp up her sexiness (especially when compared to some other former teen stars we could name). "It's never been a priority for me to try to be sexy, and I think growing up is something you should do gradually," she says. "Some people do [skip ahead], and that's their choice, careerwise, if they want to go down that path."
Read More