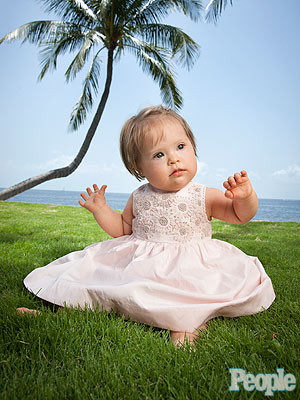 Brian Smith
The first time fashion scout Monica Hillman laid eyes on little Valentina Guerrero, she knew she'd found a beauty.
"Her eyes and her smile," says Hillman, "touched my heart."
Discovered by Hillman, a scout for Spanish fashion designer Dolores Cortés, Valentina — featured in PEOPLE this week — is considered the first child model with Down syndrome to land a campaign with a noteworthy fashion designer.
As the face of DC Kids, Cortés's children's swimwear line, 10-month-old Valentina made her runway debut July 20 at Mercedes-Benz Fashion Week Swim 2013 in Miami.
"The crowd went nuts!" her mom Cecilia Elizalde, a Miami-based TV host, tells PEOPLE of the response to Valentina, who was carried out by Cortés at the end of the show.
Though Valentina isn't the first child with Down syndrome to model — others have been in ads for Target, Nordstrom and Toys"R"Us — with her new campaign, she's one of the most high-profile.