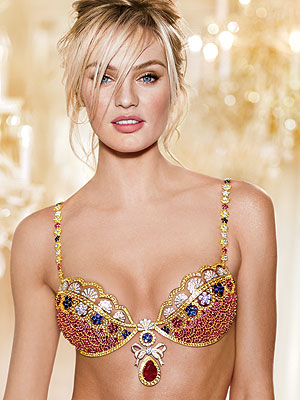 Courtesy Victoria's Secret
What would be more nerve-wracking: Showcasing your cleavage in $10 million of jewels on national TV, or following in the footsteps of major supermodels like Gisele Bündchen, Heidi Klum and Alessandra Ambrósio, who have all done it before you? Luckily, we'll never have to find out — but Victoria's Secret Angel Candice Swanepoel will when she hits the catwalk for this year's Victoria's Secret fashion show.
Though the model is just the latest to have the honor of wearing the line's annual "Fantasy Bra" creation, she will be wearing one of the most expensive ever made — thanks in part to the enormous ruby dangling from the center panel.
PHOTOS: Love Her Outfit! Celeb styles to steal.
"They had to mold my body to be able to make [the bra], and I was really excited," Swanepoel tells PEOPLE. "I tried to imagine after they'd done the mold, how would they make it, how it would look. My imagination didn't do it justice. My favorite part is this beautiful 52-carat pear-shaped ruby. Every part of it is exquisite."
Read More