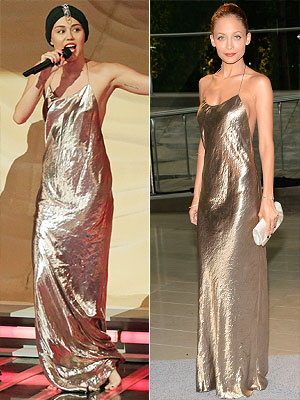 Tom Dymond/Thames/Rex USA; WireImage
Some faceoffs are so good, we just can't wait until Wednesday to share them with you. This is one of those times.
Miley Cyrus hit the stage Sunday night on The X Factor to perform her hit "Wrecking Ball." No, she didn't show up practically naked dangling over the audience. (As a matter of fact, Cyrus has been more covered up than usual lately.) Her ensemble of choice: a bronze backless lamé Marc Jacobs gown and black bejeweled Chanel turban (because it wouldn't be a Miley outfit without a little bit of edge).
If this spaghetti strap slip-dress looks familiar, that's because Nicole Richie wore the same design to the CFDA Awards earlier this year. Style Director Andrea Lavinthal loved it so much, she pegged it as her favorite gown of the year.