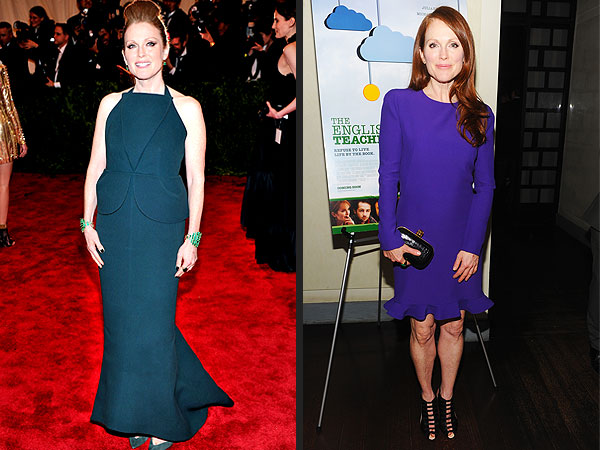 Stephen Lovekin/Filmmagic; Jamie McCarthy/Getty
Meet Leslie Fremar. She's Hollywood's top stylist (literally — The Hollywood Reporter just said so!) with clients from Julianne Moore to Reese Witherspoon. And now she's bringing her considerable talents to our site to share behind-the-scenes scoop, styling tips and much more. For her latest, she explains how to translate Moore's unbelievable, completely custom Met Gala look into an experience you can actually incorporate into your own wardrobe — no stylist needed.
After reading last week's post, with Balenciaga staffers flying in from Paris and custom emerald cuffs being created just for one night, you're probably thinking, "How could this possibly relate to my life or me getting ready for an event?"
The process is one that has been done for many years and it works. You start with an idea, or something that you love, an inspiration — and then you go look for something that's not the exact same, but has the same feeling. For example: say you saw something extremely romantic and you can relate to that image and it reflects your personality and your style. Keep that image in mind when you're shopping.
Also, when picking a dress be sure to pick something that fits your body type. If you have broad shoulders and have smaller hips I would suggest wearing something really fitted. If you have larger hips and are smaller on top, maybe find something that has a more defined waist, with a skirt that has more volume. These are little tricks that work to create illusions. I love magic!

RELATED: Read more from Leslie Fremar here!
Read More