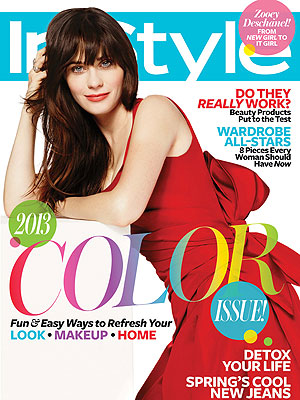 Courtesy InStyle
We covet her hair, copy her nail art and now, thanks to In Style's April issue, we've got Zooey Deschanel style envy as well.
The New Girl star talks candidly about moving past the adjectives so many people apply to her and her style (think "cute" and "quirky").
"People try to turn you into a caricature of yourself," she says. "I change, just like anyone." (Need proof? InStyle rounded up her most dramatic looks since she got her start in Hollywood).
But one thing that hasn't changed over the years is her ability to put together high-low looks like a true professional.
"Style isn't when you buy yourself the most expensive things," Deschanel says, noting that she's been shopping in thrift stores since she was a teen. "I didn't have a lot of money so I got things for, like, $2, $3 and made myself look as good as I could. Limitations make you more creative."
For lots more on the star's style (and to try on her signature hairstyles!) visit InStyle.com and pick up the April issue, on stands Friday. Plus, check out the behind-the-scenes video, below! Read More