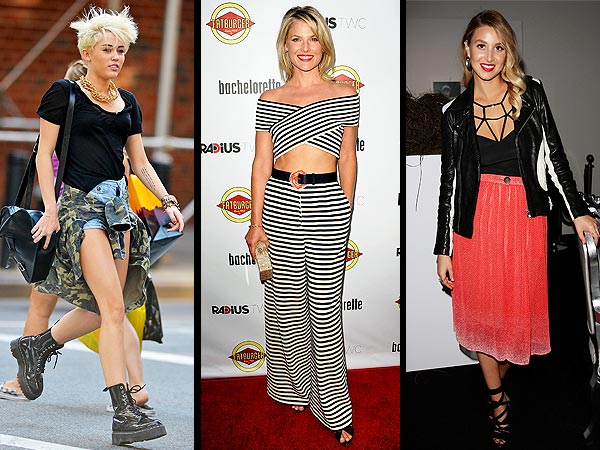 Pacific Coast News; FilmMagic; Startraks
Was there a full moon last night? A designer clothing shortage, perhaps? Because something wasn't quite right in the fashion world; we saw more than a few misses, and we're slightly concerned. Let's break it down:
Miley Cyrus stepped out in New York City Thursday evening … looking like she'd stepped off the set of a Nirvana video (left). Wearing high-waisted jean shorts with a camo jacket tied around her waist — plus some heavy boots and that super-short platinum haircut — she channeled the punky '90s, but not in the best way.
Ali Larter took a big risk at the Bachelorette premiere in Los Angeles (center), wearing a black-and-white striped crop top and matching pants on the red carpet. While the ensemble left us speechless (though Ali definitely has the body to rock it), at press time, 20 percent of you "Loved It" in "Last Night's Look."