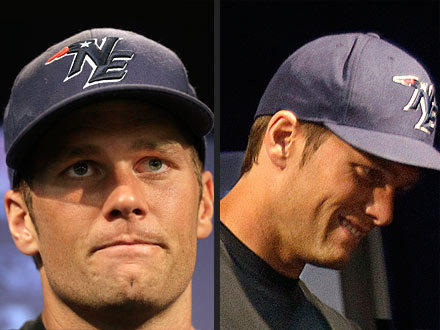 Stephen Lovekin/Getty
The most talked about hairstyle in football is no more.
Days after telling the press he doesn't take his hair "too seriously," Tom Brady is creating "buzz," showing up to a press conference Wednesday without those famous long locks. Gone was his much-discussed shoulder-length do, and in its place, a freshly cropped cut, which Brady kept concealed underneath a baseball cap.
The model athlete has caused quite a stir in recent years with his ever-changing hair. He turned heads everywhere with a short cut before experimenting with his controversial Bieber-esque swoop. Then, he took things to new lengths by growing it longer and eventually sporting a ponytail that had sports fans — and Brady fans — commenting up a storm.