Had enough of all the gowns yet? Then it's time to talk details, starting with the punked-out nailpolish we saw on some of our favorite stars.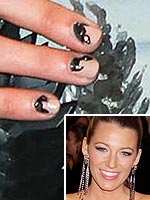 Ramey; Inset: Landov
Blake Lively: To accent her vine-embroidered Gucci Première gown, celebrity manicurist Elle put together a complicated mix of Red Carpet Manicure's "Always Slate Never Early," "Fake Bake" and "Black Stretch Limo," then added rhinestones and glitter to create a vine effect that also seemed to pay homage to the night's "Punk" theme, looking like hardcore chipped black polish from a distance.