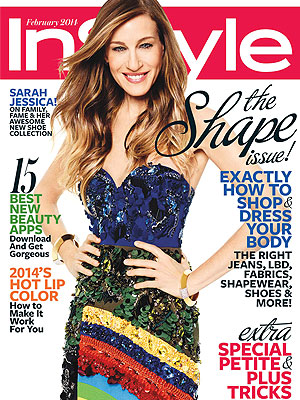 Courtesy InStyle
You might expect a fashion icon like Sarah Jessica Parker to be very serious about style, but her latest interview in the February issue of InStyle totally disproves that notion — and makes her seem like all the more a fashion genius for it.
Though she admits to ruling a few things out (tube tops, for instance) as she approaches 50, she has no real hard-and-fast guidelines for what she'll wear. "I think pulling it off or not pulling it off, that almost doesn't exist for me, because I'm looking for experiences, not some report card," Parker says. "I do love fantasy, color and the idea of no rules … So you choose a dress people think is a disaster. In the end, who cares?"
RELATED PHOTOS: What your favorite stars are wearing this week!
Her lighthearted approach to fashion belies the seriousness with which she approached her upcoming shoe line, SJP, soon to be sold at Nordstrom. "If I'm going to ask people for their hard-earned dollars, I'd better be making shoes I want to wear," she says. "My real dream was a smaller line, my name, built in Europe, at a reasonable price point." And she got everything she wanted (you can check out photos in this magazine, or on this site later today!) in a line of classic, classy and wearable footwear and handbags.
Read More