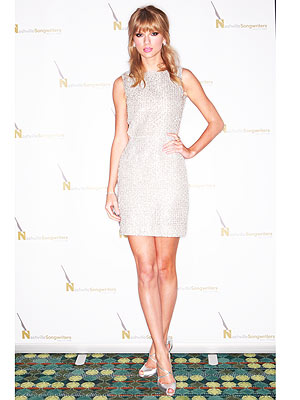 Royce DeGrie/TAS/Getty for TAS
Some weeks we happen to get a little more invested than usual in the race for Best Dressed, and this was one of those weeks. Ever since we laid eyes on Taylor Swift's dazzling Houghton mini, worn to pick up her Songwriter/Artist of the Year award in Nashville, we were straight up obsessed. And, apparently, so were you, because she held a commanding 5,000-vote lead at press time, easily beating out the rest of the pack.
PHOTOS: See what other stars wore on the red carpet this week!
This look was a surprising departure from her typical style — between the accessories (those Jimmy Choos!), the pink pout and the flawless smokey eye (seriously, can we hire her makeup artist for a night?), Taylor went full-on bombshell. Maybe next time she wants to get revenge on an ex by writing an angry song about him , she should just send him this photo instead.
Oh yeah, we almost forgot: Other stars were on the red carpet this week! Sandra Bullock had a strong showing in second place, thanks to the black lace mini she wore to the London premiere of Gravity. And Freida Pinto proved work-appropriate clothes can also be Best Dressed-worthy: Her ladylike cream blouse and brocade skirt, selected to celebrate the International Day of the Girl, landed her in third.
Read More