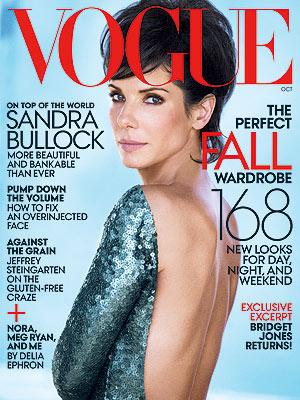 Peter Lindbergh/VOGUE
Nope, not even that backless Marc Jacobs gown can distract us from Sandra Bullock's short hair on the October cover of Vogue.
The 49-year-old actress nabbed the prestigious spot for the fifth time, sporting a super-short side-swept crop with a few longer curls at the back. (And we're still recovering from the bold look.) But don't shed a tear for her glossy long hair just yet.
RELATED: Check out even more major celeb cuts and color changes here!
Bullock has been busy hitting the red carpet to promote her new film Gravity, wearing the same long style we're used to seeing her in (with a few honey-colored highlights mixed in). So unless her hair grew back in month, our money's on a wig. Plus, she has a similar short style in the new sci-fi drama — check it out in the trailer below: Read More