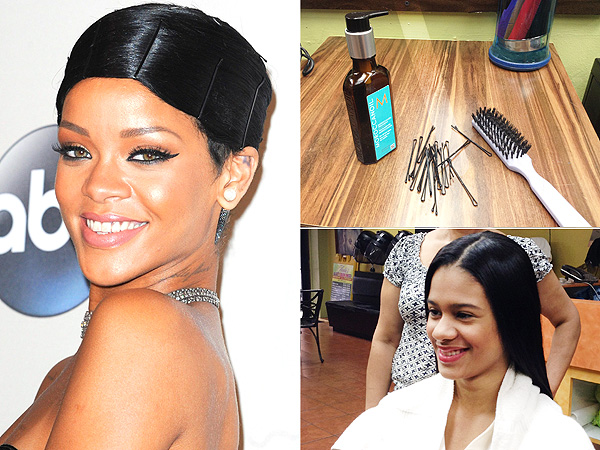 Elizabeth Goodenough/Everett Collection; Courtesy
At Sunday night's American Music Awards, Rihanna graced the red carpet (and later, the stage, to accept her Icon Award) sporting a hairstyle that caused thousands of women to gasp in disbelief.
Sure, the 25-year-old Bajan beauty has made waves with her bold style choices before, but her latest move prompted some viewers to wonder if she forgot an important step in her getting-ready routine. After all, she seemed to be wearing a "doobie wrap"-– a protective hairstyle that seemingly originated in the Dominican Republic and is commonly requested by Black and Latina women to achieve or maintain a wrap hairstyle.
We checked in with veteran Dominican hairstylist Angela Martinez of the Acela Salon in the South Bronx, New York who has been creating doobies over 28 years (and demonstrates on Channel De La Cruz in the video below). Here's what you probably didn't know about Rihanna's hairdo:
RELATED PHOTOS: More looks you can't miss from the AMAs!
Read More