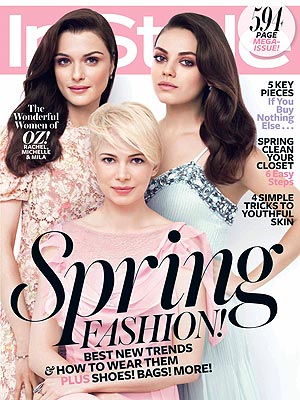 Courtesy InStyle
If you were a star, what would you put on every day: an Hermes Birkin bag? Wildly expensive Jimmy Choos? Ten-carat diamond earrings? InStyle asked Mila Kunis, Michelle Williams and Rachel Weisz to name the piece they can't live without — and their answers definitely surprised us.
In the new issue of InStyle, the Oz: The Great and Powerful co-stars reveal the most beloved item in their closet. And while Weisz's prized possession isn't super-spendy, Kunis and Williams each picked items that the average girl can afford, proving that even the rich and famous love a bargain.
Mila Kunis: Every girl knows that the perfect pair of pants is hard to find, which is why Kunis can't part with the dark green Old Navy cargo pants that she bought on clearance for $4.99 — 15 years ago. "My friends hate them so much they hide them from me. When those pants fall apart, I swear I'm going to get someone to copy them for me," she jokes.