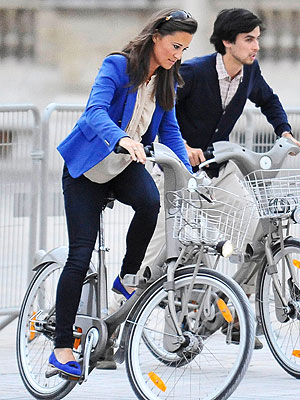 Bauer-Griffin
Soon we'll be hearing the pitter-patter of tiny royal feet — as well as the sound of a famous mother chasing after the new heir. And chances are that this particular famous mom, Duchess Catherine, may be wearing a pair of Chatelles while she does so.
Kate was introduced to the shoes by her sister Pippa Middleton, who's a big fan of the line (as seen at left). Once she had three pairs of her own, "Pippa said, 'I want to buy a pair for my sister,'" the line's designer, François du Chastel, tells PEOPLE.
RELATED: Are you wearing amazing shoes this summer? Show us a pic in our Your Turn challenge!
Through feedback from Pippa, his longtime friend, du Chastel believes Kate loves her styles, Honoré and Alphonse. And though she hasn't been spotted out in them yet — "I don't know if she wore them at Buckingham Palace in private," he says — they're perfect for an expectant mom: "I want a girl to shine and be comfy."
Read More