Pink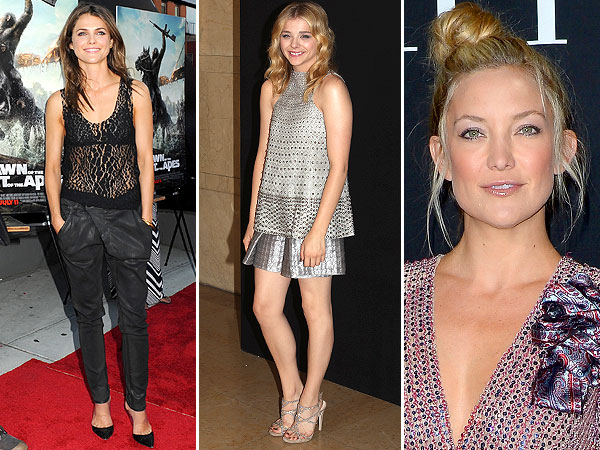 Splash News Online; WireImage (2)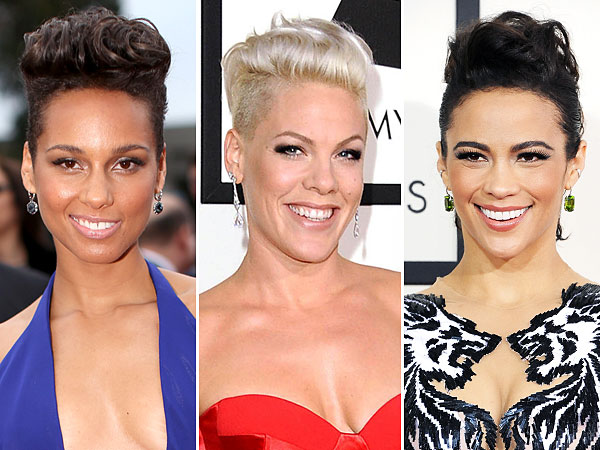 Christopher Polk/Getty; Kyle Rover/Startraks; Stev
We're used to seeing Alicia Keys and Pink rocking pretty bold hairstyles, but it looks like Paula Patton is also jumping on the fauxhawk bandwagon for this year's Grammy Awards.
While Keys and Pink played up their shaved sides with teased-up pompadours, Patton slicked back her long locks and added height to the front to give the effect of the punk-inspired 'do. It showed off the out-there angry-lion bodice of her Nicolas Jebran Haute Couture gown, while Keys and Pink showcased their fabulous bods in simpler designs.
We're loving all three interpretations — the gravity-defying hairstyle isn't easy to pull off, but we say they all nailed it.
What did you think of their rocker-style manes?
— Shanelle Rein-Olowokere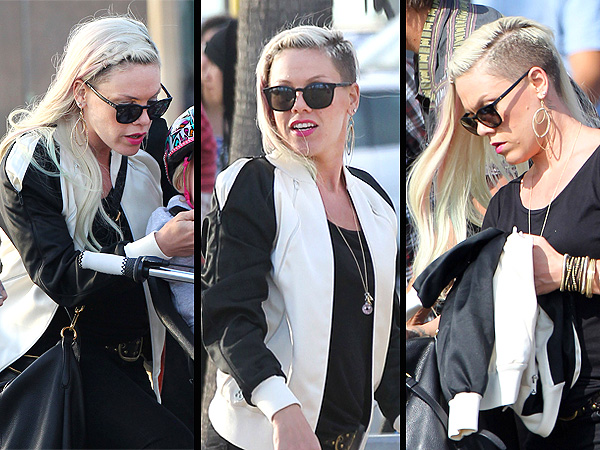 Sipa USA (3)
We know Pink loves to experiment with her look, but her new hairstyle is throwing us for a loop.
The singer's signature pixie is no more!
She stepped out this weekend sporting long blonde locks swept to one side. As for the other half of her head – it's completely shaved.
And to really take her hair transformation to the next level, the hot mom added some pink highlights to her platinum hue.
"Officially decided that June is crazy hair month. If there's something you have been wanting to do—go for it! No Fear! Crazy hair is fun," the singer Tweeted June 1.
RELATED PHOTOS: Celebrity Hair Makeovers: Better Before or After?
We'd definitely say she has the kuhrazy part down. Looks like regular extensions are just way too boring!
Tell us: Do you like Pink's new 'do? Or do you miss her pixie?
–Brittany Talarico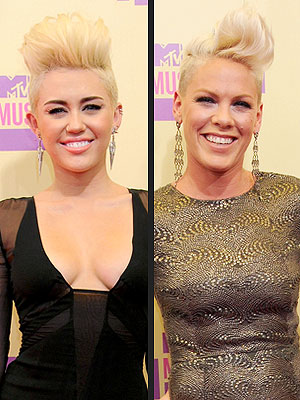 Gilbert Flores/CelebrityPhoto(2)
When Miley Cyrus and Pink showed up to the MTV Video Music Awards sporting similar hairstyles, the claws came out … among fans. But as it turns out, Pink is flattered that Cyrus is trying something new — and wishes other women would follow suit.
"Everyone has long, brown hair," Pink said Tuesday morning during an appearance on Today. "When two girls get fearless and shave their heads, it's a big deal. I think we're just a little more daring."
When asked how it felt to have Miley "steal" her look, Pink replied that she's actually a fan of the young pop star.
"I think she's beautiful," she said. And as for the hair, "I think she rocks it way harder than I do." Tell us: Have you ever tried a daring new hairstyle?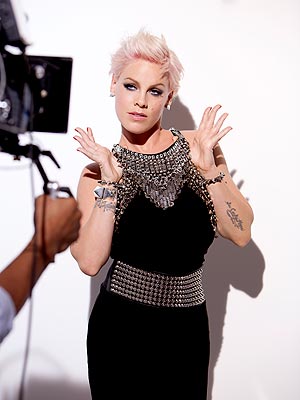 Courtesy CoverGirl
The CoverGirls had better look out — there's a tough new girl in town. Pink was named the newest face of the beauty brand Monday, joining Taylor Swift, Sofia Vergara, Drew Barrymore, Ellen DeGeneres and Queen Latifah (plus two Olympic stars).
"Joining a group of women who have always inspired me — to laugh out loud, let my guard down, or play around with my beauty look — is such an honor," the singer says in a release. "I have a lot to celebrate. I called my new album The Truth About Love, and the truth is that I have my beautiful family and baby girl, my new music and now my partnership with CoverGirl to love."
"Pink is a powerful and provocative role model, who has always been an advocate of individualism and making no apologies for who you are," adds CoverGirl vice president and general manager Esi Eggleston Bracey. "We love the energy and confidence that she radiates, and the fact that inside and out she's as cool as she looks. She's an awesome addition to our CoverGirl family."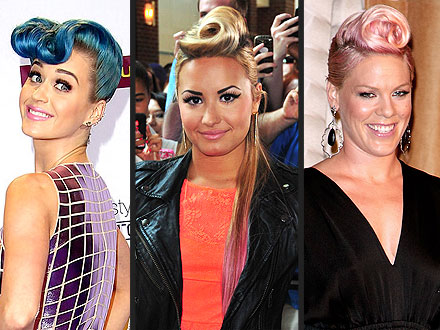 Getty; Splash News Online; Startraks
We're all for sweet rolls … but when they're in our tummies, not our hair! Lately, several stars have been sporting retro, pinup-inspired hairstyles, and while different, we can't decide if we're quite on board.
Katy Perry kicked off the trend at Berlin's ECHO Awards in March, curling her then-blue bangs up over the top of her head. Demi Lovato followed suit last weekend, giving her long, pink-tinged blonde hair a bit of a front bun at X Factor auditions in North Carolina. And Thursday, P!nk did the same, punching up her black jumpsuit with a colorful rolled hairstyle and dangly earrings.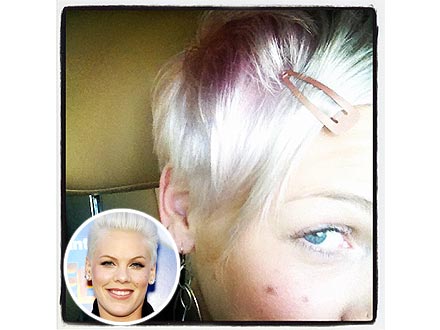 Courtesy Pink; Inset: Landov
Her name is extra relevant again: late last week, Pink shared that she dyed her hair … pink!
"Okay the hair is the palest pink," she told Twitter followers. And a photo of the new do wasn't the only thing she had to share: the singer had professional news, too. "You know what that means," she said of the dye job. "NEW RECORD TIME!"
Pink, who rocked pink hair at the start of her career, is the latest star to get in (again!) on the recent pink hair craze: Katy Perry tried the trend in August, and since, stylish ladies like Dakota Fanning, Lauren Conrad, Ashley Tisdale and Chloë Moretz have followed suit, dip-dying their strands for a more subtle effect. Tell us: What do you think of Pink's latest look?
Editors' Picks
More on Stylewatch
Top 10 Style Categories
Sites We Love