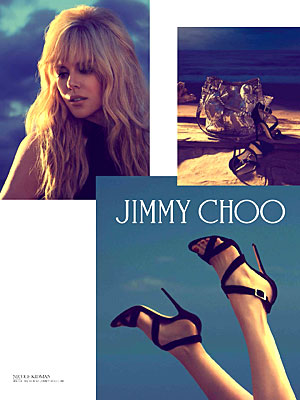 Courtesy Jimmy Choo
You'll often spot Nicole Kidman doing the regal and glamorous thing, or being all mysterious and elegant. But flat-out sexy? It's not typically her scene — until now. For her second round of ads for Jimmy Choo, the actress channels 60s screen siren Brigitte Bardot, strapping on her highest heels and teasing her hair sky-high for some sultry shots.
RELATED PHOTOS: Seven shoes you'll see on every star this fall!
Far from the icy beauty of her upcoming role as Princess Grace of Monaco, the making-of video (below) shows Kidman warm and sultry underneath a voluminous blonde, banged wig.
In the ad, she waxes rhapsodic about the shoes she poses in and admits her friends are hitting her up for a pair of Choos. Not surprisingly, her favorite pair is named "Sunday" (just like her daughter!) and she shares she's never been afraid to wear heels, even at her statuesque 5-foot-11.
A little more surprising? The mischief she gets up to in those heels. "I like to have the luxury of putting on something really high, because I just feel sexier," she says, adding, "if I'm in the mood, I'm the girl that will dance on the table with a snake."
Read More