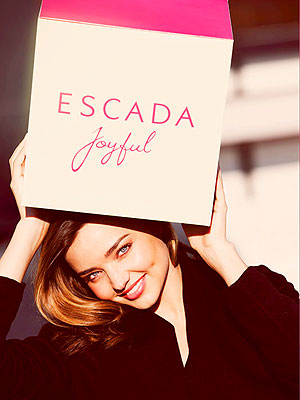 Courtesy Escada
She has her own line of beauty products, huge new campaigns with H&M, Clear Haircare and Reebok and now she's just been named the face of Escada's fall fragrance "Joyful." Yes, Miranda Kerr is everywhere. We caught up with the supermodel to get some insight on her latest brand collaboration (finally, we could get our questions about her perfume-spraying routine answered!).
"I like to spritz on the ends of my hair, and also on my clothing before I get dressed," Kerr tells PEOPLE. "Just a little spritz on my clothing. It's a subtle way when you enter the room for people to feel your presence, but not be overwhelmed by it."
RELATED PHOTOS: Barely-there vs. bold makeup — Vote now!
The supermodel added that her involvement with the brand's new scent (out this fall) has reminded her or her childhood. "I remember playing with my mother's perfumes. She had quite a collection. On her dresser she had all the different perfumes. It was her thing. I didn't really get my own perfume until I was older, maybe in my teens [but I] remember using rose oils and sandalwood oil — mixing those two together. I liked that balance of the fresh flowers with something that's very grounding. I think that's a nice mix of freshness and strength." Read More