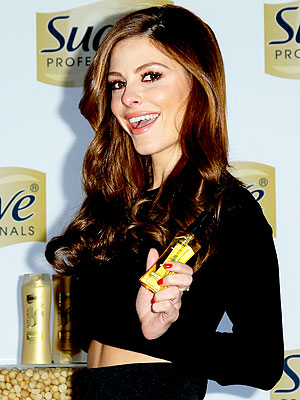 Steve Mack/Filmmagic
Stars are shearing off their long tresses for spring, but you won't catch Maria Menounos working a bob anytime soon. (In her words: "No, no, no, never!")
"I just think hair is a woman's best accessory, and I don't have time to make my short hairdo look cool for me," the Extra! host (and PEOPLE StyleWatch columnist) told PEOPLE at Tuesday's launch for Suave Professionals Natural Infusion collection. "Long hair will always look great no matter what you do, even if you don't do anything to it."
Why the pixie phobia? While Menounos, 35, thinks dramatic cuts looks great on the celebs she interviews, she's still scarred by a childhood misstep. Back in the day, a young Menounous tried out an '80s trend best forgotten: the mullet.
"If you look back at my Instagram, I've posted some of my throwback pictures of my horrendous haircuts my mom's given me. My mom used to just chop my hair and it was really embarrassing and really awful over the years," she explains. "I'll never have short haircuts again."
RELATED: Even more star hairstyles we want to steal!
It's hard to blame Menounos. We'd steer clear of scissors with hair like that too — especially since it got Suave to sign her on as their ambassador. They teamed up with GLAM4Good Tuesday to give inspiring women "a touch of glam" with free makeovers. And Menounos loves the fact that you don't need a megabucks TV gig to afford the products. "I think that's the biggest misconception that women have, is that you have to spend more to look good," she says. "There's no reason that you need to go out and spend an insane amount of money on shampoo and conditioner when they've done it for you in this amazing way."
Read More