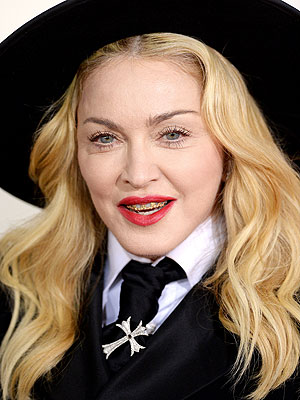 Lionel Hahn/Abaca USA/Startraks
Last summer, we shared our thoughts about Madonna's golden grill, and lets just say we had a lot of questions about the star's unique accessory. But the queen of pop doesn't care what anyone thinks, and wants the world to know her dental duds are here to stay.
"It mostly pisses people off," Madonna, 55, told the Canadian entertainment show etalk. "They seem not to like my grill."
The last time she rocked the controversial mouth gear, Madonna was in full menswear mode, matching son David in a Ralph Lauren suit and wide-brim hat at the Grammys. Yet Madge says her grill is actually quite versatile, a stylish choice that can be worn anywhere from a red carpet to the gym.
"I've worn it working out, I've worn it horseback riding, I wear it when I eat," Madonna said. "I can do anything in that grill."
RELATED PHOTOS: Weigh in on more questionable trends here! Read More