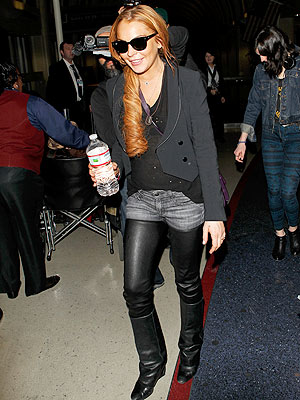 MAXA/Landov
We all know Tabatha Coffey, Bravo's sharp-tongued Aussie style pro, from her newest show, Tabatha Takes Over, which is in its fifth season! And now, she's bringing her talents online, joining us at PEOPLE StyleWatch each week to dish on some of the best – and worst – celebrity looks of the week. Keep in mind the opinions below belong solely to the stylist … though she's probably saying what lots of you are thinking, anyway!
Today, she takes on Lindsay Lohan, whose outfit required a double- or triple-take.
Hey there Lindsay! Well, don't you look all bright eyed and fresh-faced, ready to jump on the big ol' airplane? Where ya going? New York? I have to say, you look pretty comfy and ready to enjoy a long flight.
I can tell you're a pro at traveling because you are sticking to the No. 1 rule of flying: dressing in layers. You have your scarf on, just in case you get cold. You have a cute little jacket on over what appears to be either a comfy tee or cozy tank of some sort. Oh and look, your iPhone is nestled in your front pocket for in-flight entertainment.
Read More