Between Serena going by "Sabrina" and claiming she grew up in Wisconsin and Rufus and Ivy's hook-up (ew?!), Gossip Girl's season six premiere's plot was as unrealistic and all over the place as ever. But story line aside, the clothes (unsurprisingly) surpassed our expectations. Here are the top four style moments from last night's episode: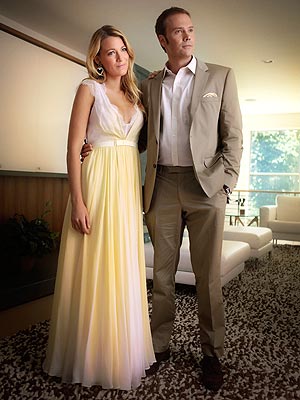 Giovanni Rufino/The CW
1. "Sabrina's" wedding dress: The last time we saw Serena, she was passed out on a train to nowhere. After not hearing from her all summer, the gang goes on a hilarious search-and-rescue mission. When they find Serena (who's now going by "Sabrina" for reasons we still don't quite get) she's not only alive and well, she's attending a wedding with her new millionaire boyfriend, Steven. And Serena/Sabrina must be super-smitten with her new beau because she color-coordinated her very low-cut yellow-and-white Jenny Packham gown with his pocket square. Now that's love, people!