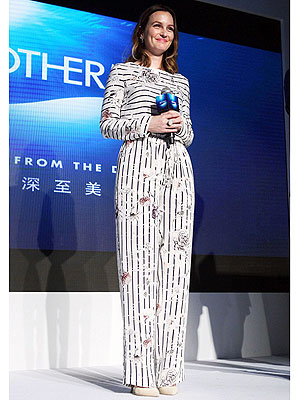 ImagineChina/Rex
When news broke that Leighton Meester and Adam Brody were engaged, we immediately got to work — digging up photos of Blair Waldorf's wedding dress for inspiration, wondering if Blair Waldorf and Seth Cohen would have dated and of course, gearing up to see ring photos.
So when we saw Meester made her first post-engagement red carpet appearance at a Biotherm event in Shanghai, we were on high alert for some new jewelry on her left hand. No dice (she knows us too well) but we did think her bold pantsuit was worth some discussion on its own.
RELATED PHOTOS: More red carpet looks you've got to see!
The two-piece Marchesa Voyage ensemble consisted of a long-sleeve top and palazzo pants with a matching nautical stripe and floral mixed print. She wore her hair loose and short and added pretty pink lipstick, and perhaps as a wink to the onlookers hoping for a little sparkle, she added a large ring to her right hand.
Read More