Who run the world?
The women of the Kardashian-Jenner family show a united front on the cover of November's Cosmopolitan magazine (its 50th anniversary issue!) in crisp, white button downs and not much else.
"America's first family," as dubbed by the magazine, lounges in front of a gray background in oversized shirts, their gams covered only with what appears to be a thick sheen of moisturizer.
The six women (Kim Kardashian West, Khloé and Kourtney Kardashian, and Kris, Kylie and Kendall Jenner) wear matching black patent heels.
Save for Khloé (whose hair has gotten increasingly blonde over the past year), the fashion-forward reality tv stars are all sporting their natural dark tresses.
Kim (who's no stranger to baring it all for a magazine) first debuted the cover and at least one of the group shots on her Instagram, Monday.
"Happy 50th Birthday @cosmopolitan So excited to be on the November cover with my family, she wrote, and added of a second photo, "Thank you @cosmopolitan for this amazing cover shoot."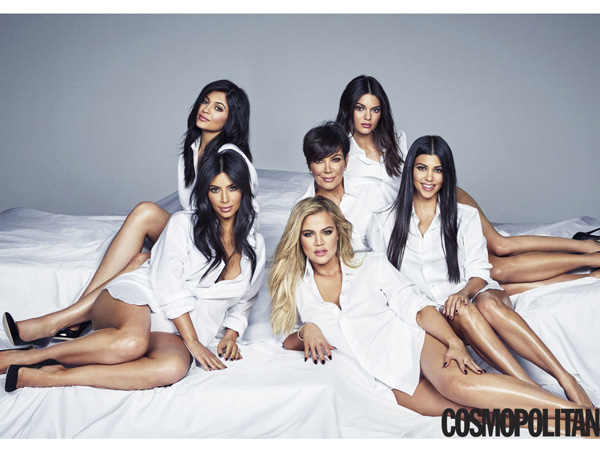 Cosmopolitan Magazine