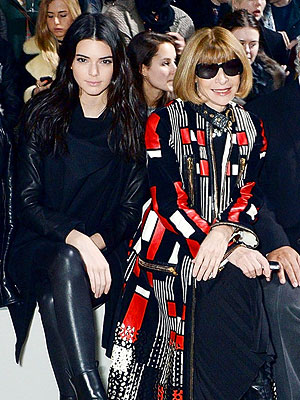 David M. Benett/Getty
Once Anna Wintour thinks you've got it, you've got it.
The same day that Kendall Jenner, 18, made her high-fashion modeling debut in a completely sheer shirt at the Marc Jacobs show (where the Vogue editor had a front row seat, of course), she also appeared on the Vogue website wearing hot-off-the-runway fashions as they were styled by the designers. Then the two hopped on the same flight to London to make appearances at London's Fashion Week, where they were spotted sitting front row together at the Topshop show on Feb. 15.
"Anna is very savvy about upcoming 'It girls,' and very much has her finger on the pulse," says Laurel Pinson, editor-in-chief of StyleCaster. "When she takes a girl under her wing, a Vogue cover or high fashion campaign is usually on the way. She's done it for a lot of girls, like Rooney Mara and Taylor Swift." And Marc Jacobs (a longtime Vogue darling) is a great point of entry for up and coming starlets — he's featured the Fanning sisters and Miley Cyrus in recent campaigns.
Read More