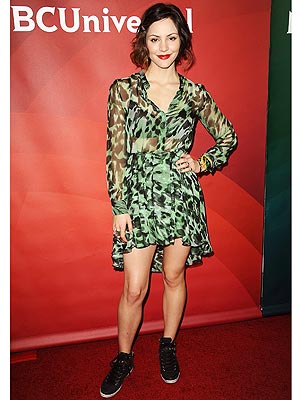 Jason LaVeris/FilmMagic
We all know Tabatha Coffey, Bravo's sharp-tongued Aussie style pro, from her stint on Shear Genius and her latest hit, Tabatha Takes Over. And now, she's bringing her talents online, joining us at PEOPLE StyleWatch once weekly to dish on some of the best – and worst – celebrity looks of the week. Keep in mind the opinions below belong solely to the stylist … though she's probably saying what lots of you are thinking, anyway!
Today, she takes on Katharine McPhee, who selected a printed high-low dress for an NBC TCA panel in Pasadena, Calif.: 
Oh Kat McPhee, you've got to be kidding me! What is going on with this outfit?!
At first glance I thought your dress was a chintzy camo print and I immediately was like, "Oh cam-no!," but now that I look more closely I'm thinking it could be leopard. Actually it doesn't really matter because it just isn't working for me. And neither is that length. I think this high-low mullet trend needs to take a break — a very, very long break. Speaking of length, Kat, it looks like you forgot your pants.