Kate Winslet
Kate Winslet certainly doesn't look 40, and according to the actress, she doesn't feel 40 either. In fact, she's welcoming the milestone birthday (it's in three days!) with open arms. And it's going to be a huge year for her.
Winslet is set to star in three up-coming dramas (one of which she plays the love interest of the 25-year-old Liam Hemsworth) and is opening up in a new interview about exactly why she's so excited to hit 40, even if she can't get "rip-roaring drunk" anymore.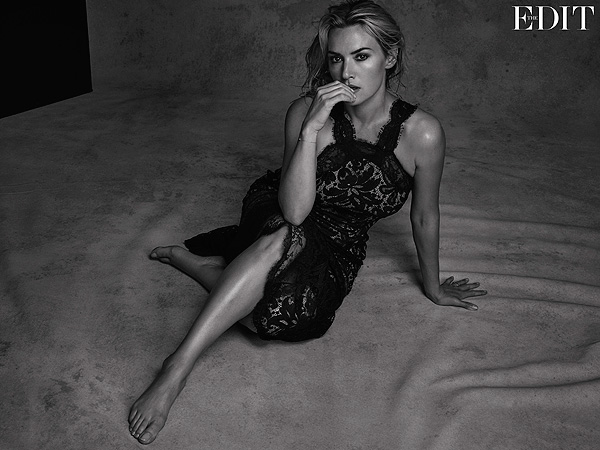 Chris Colls and courtesy of The EDIT, NET-A-PORTER.com
Almost as fun as watching the on-court action at Wimbledon? Seeing what the celebrities wear in the stands. The prestigious British tennis match has a strict dress code, particularly if you're in the Royal Box, and celebrities always comply in their best crisp whites and elegant suits. Go Fug Yourself has a comprehensive roundup — but below, we picked some of our favorite looks on the many A-listers in attendance.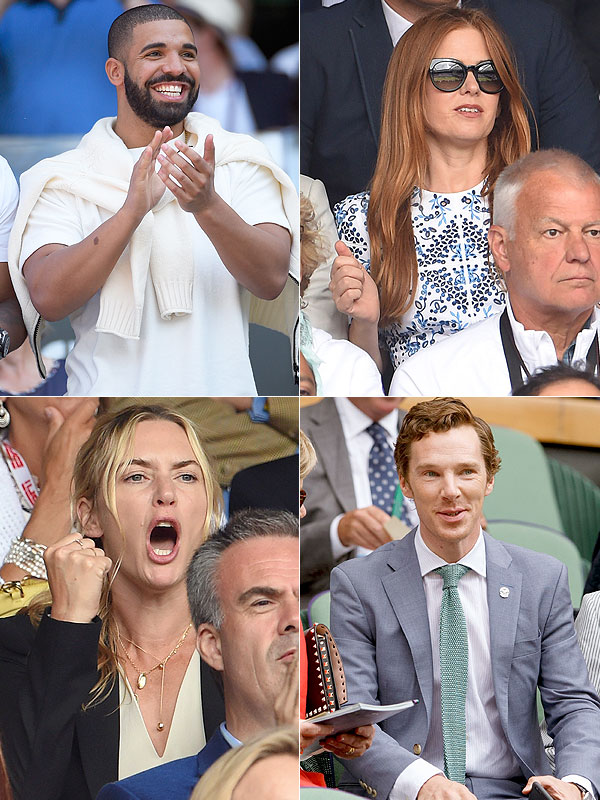 Corinne Dubreuil/ABACA; Karwai Tang/WireImage; Ka
She may joke about it, but there's no funny business when it comes to Kate Winslet's ageless beauty.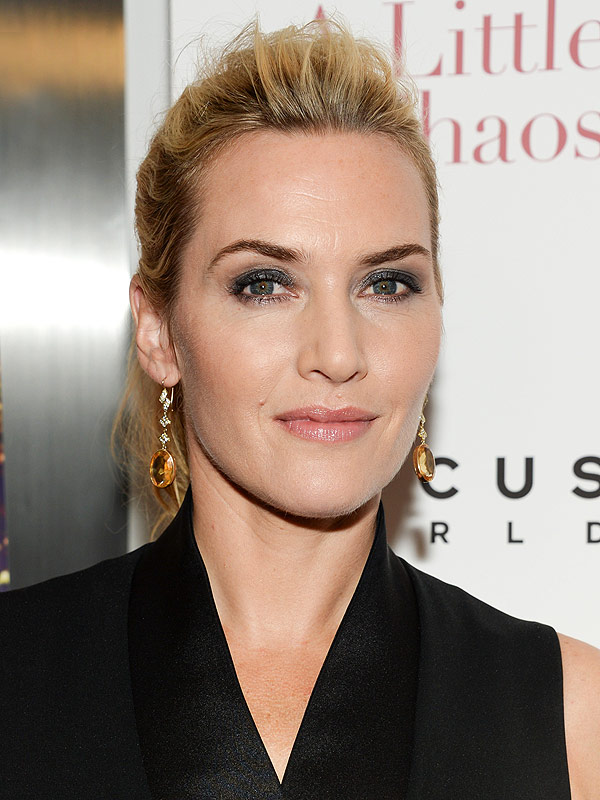 Evan Agostini/Invision/AP
We don't know where Kate Winslet has been, but we're glad she's back. The 39-year-old actress stunned at her first red carpet appearance in months, and we're excited to talk about her look.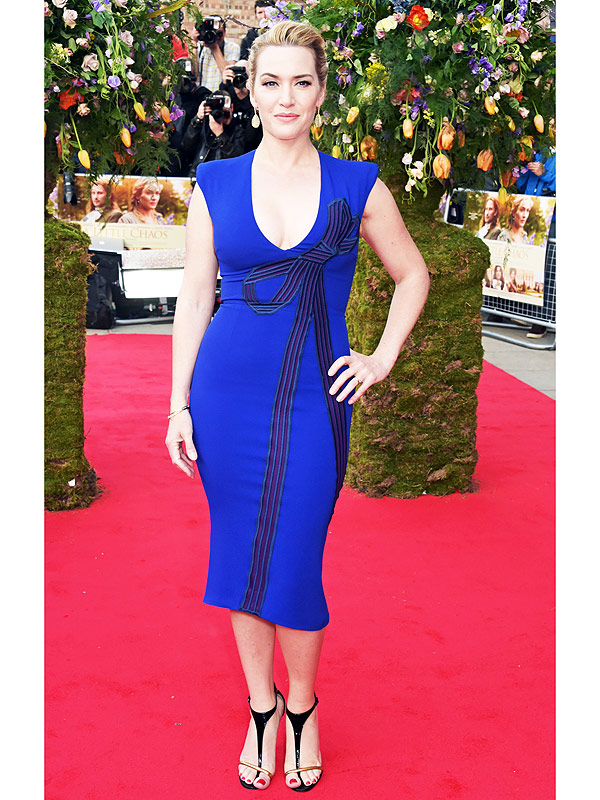 Dave M. Benett/WireImage
Kate Winslet might scare the pants off you as Jeanine in Insurgent (double-belt in the theater, just in case) but she's doing quite the opposite on the cover of April's InStyle. In fact, she's continuing to open up about her happy marriage, the onset of wrinkles and why she's loving the skin she's in.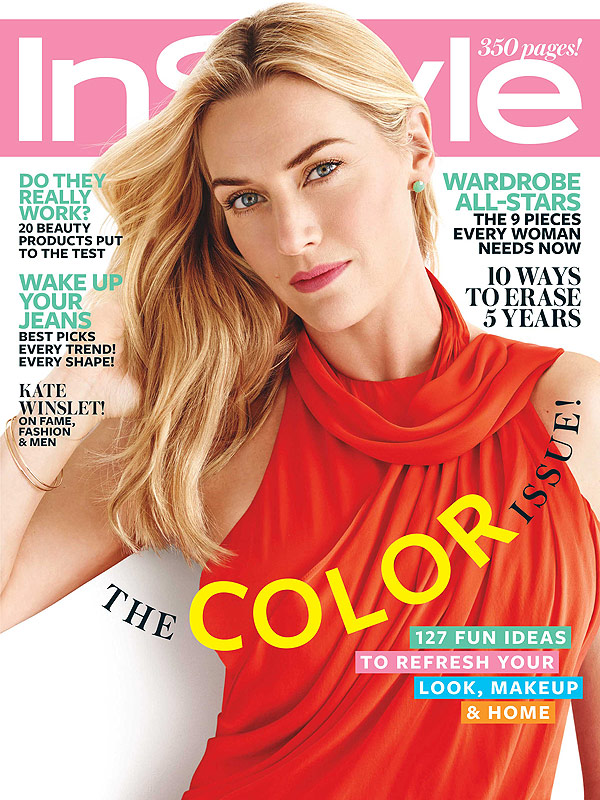 Giampaolo Sgura/InStyle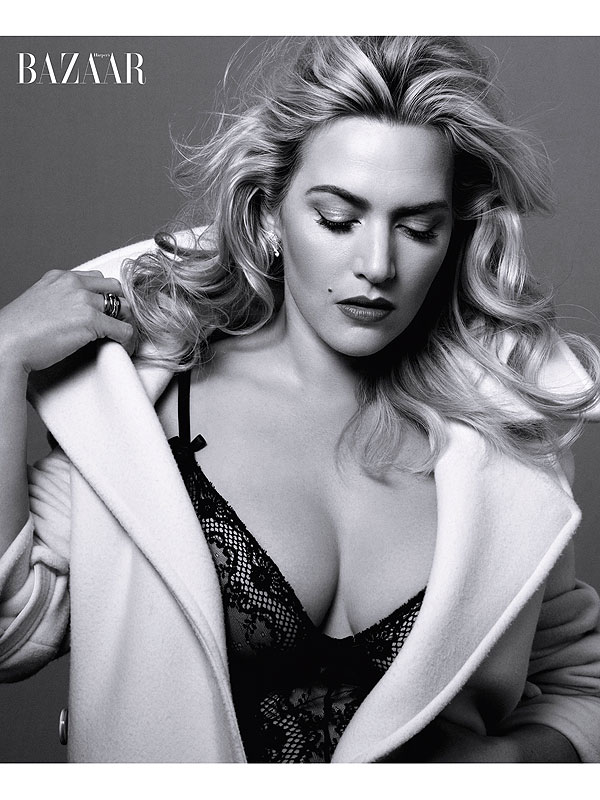 Daniel Jackson for Harper's BAZAAR
For an actress who's had plenty of "Wow" moments on the red carpet and who has been the face of Lancôme for seven years, Kate Winslet insists that her life is everything but glam-centric. For one thing, she hasn't had a manicure in months.
"I know it sounds very self-effacing because people say, 'Oh you're a film star. People probably come to your house to do it,'" the star says in the June/July issue of Harper's Bazaar, her first cover since giving birth to son Bear Blaze in December. "But I don't have the time to get my nails done apart from when I'm doing a photo shoot."
And when she's not hitting the carpet in figure-hugging gowns, Winslet's uniform is a black blazer and Rag & Bone jeans. "They're great, because I'm not quite back into my pre-pregnancy jeans," she tells the mag.
Right now, the new mom quietly resides in Chichester, just south of London, and has no qualms with walking to a café with a girlfriend and baby Bear strapped to her chest.
RELATED VIDEO: See Kate Winslet's Changing Looks!
In fact, it seems Winslet goes out of her way to avoid the trappings of an A-lister. Winslet's marriage to Richard Branson's nephew Ned Rocknroll is largely a mystery to fans. "Nobody knows him — it's brilliant," she says. "They like to think they know him. They like to be judgmental because of his name and everything, but it's fabulous because no one knows anything about him."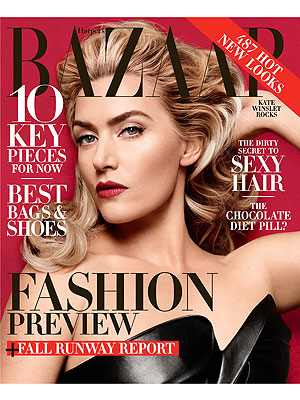 Daniel Jackson for Harper's BAZAAR
The Divergent star turns 40 next year, and says she doesn't live in fear of frown lines. "I'm quite excited about it actually. I really enjoy getting older. You just don't worry as much."
But it's her gig with Lancôme that will definitely help with the aging process — she's marketing their latest wrinkle fighter, Rénergie French Lift: "Working with them does a huge amount for my self esteem, I've got to tell you."
For more on Winslet's latest projects, visit Harpersbazaar.com or pick up the June/July issue, on stands May 27. And tell us: Do you share Winslet's attitude on aging? How about manis?
–Catherine Kast
Editors' Picks
More on Stylewatch
Top 10 Style Categories
Sites We Love