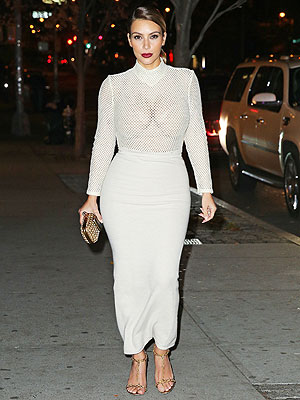 Jackson Lee/Splash News Online
This morning marked the world debut of Kanye West's new "Bound 2″ music video — noteworthy because his fiancée Kim Kardashian stars opposite the rapper in the clip. Her role? Riding on top of his motorcycle completely topless.
But for enthusiasts who couldn't wait for West to debut the video Tuesday on the Ellen DeGeneres Show, Kardashian gave a sneak preview of the racy video last night by hitting the town in one of the most insane dresses she's worn yet: A mesh, sheer white turtleneck with a long skirt. Yes, it exists. No, that's not an optical illusion.
RELATED PHOTOS: Keeping up with Kim Kardashian's sexy new mama style!
We have a feeling the engaged reality star (who apparently is still going through wedding dress test runs) selected this latest look with West's big video debut in mind. While she doesn't show off her entire chest (there are built in cups), the second-skin stunner is still pretty revealing.
Read More