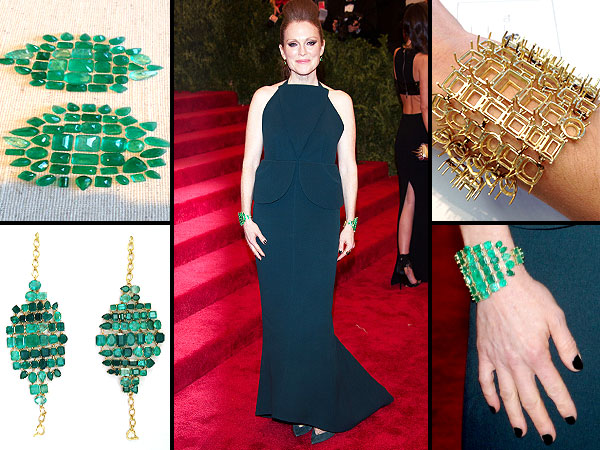 Courtesy Leslie Fremar(3); Splash News Online; DPA
Please welcome the newest addition to our PEOPLE StyleWatch blog lineup, Leslie Fremar. She's Hollywood's top stylist (literally — The Hollywood Reporter just said so!) with clients from Julianne Moore to Reese Witherspoon. And now she's bringing her considerable talents to our site to share behind-the-scenes scoop, styling tips and much more. For her inaugural blog post, she gives us all the backstage dish on Moore's stunning emerald Met Gala look — and what it's like to have every piece of your outfit made entirely custom for you.
A question I get asked all the time is "How do you get your clients ready for a major event?" I think the reason that people are so interested in this is because it feels very out of reach for most. Many women in their everyday life don't have the need to dress that way, unless they are going to their own wedding. To this day I still find the process of getting ready for a major red carpet event extremely fascinating. Even though I do this for a living, I truly believe it can be applied to every woman getting ready for a special occasion.
The Met Gala was last night and it's pretty much a "Who's Who" of Hollywood, music and fashion all in one room. Everyone is trying to do something memorable, interesting, and fashionable. It's fascinating how it all comes together and how many people are really involved in creating one look; you have the designers, the artist, the stylist, the jeweler, the hair and make-up people, manicurist, tailor, assistants.
Just to walk you through what it takes to get ready for The Met Gala: Last night I dressed Julianne Moore in Balenciaga. We started the process when Julianne accepted Alexander Wang's invitation to attend as his date to the event. Once the pairing between actor and designer is made, you can go ahead and start creating the look for the evening.
After going through images from the Balenciaga Fall/Winter 2013 show, Julianne and I had relayed our favorite looks from the season. Balenciaga then presented us with sketches, transforming some of the looks from the show into evening gowns. We ended up choosing a version of a cocktail dress, which he showed in black. They suggested making it long and in green. We loved it, we approved the sketch and they started making the dress.
Read More