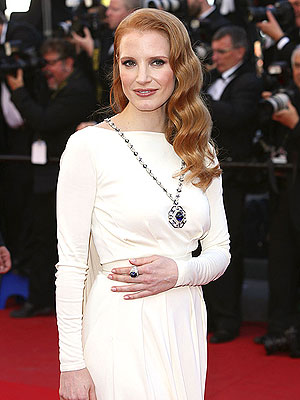 Joel Ryan/Invision/AP
Jessica Chastain was so nervous about wearing Elizabeth Taylor's sapphire-and-diamond necklace at the Cannes Film Festival's Cleopatra screening, she didn't even ask its value.
"I didn't want to know how much it was worth," Chastain told PEOPLE at a Bulgari-sponsored soirée, following the film's 50th-anniversary screening. "It was so thrilling to wear it, but I was overwhelmed too. It was a little scary. I was the first person to wear it since Elizabeth. I felt as if I was able to spend the day with her today by wearing the necklace."
That sense of familiarity likely extends from Chastain's choice of reading material. She admitted to picking up Furious Love, a book about Taylor and Richard Burton's tempestuous love affair, which began on the Cleopatra set and was marked by Burton's many opulent Bulgari purchases for Taylor.
"I was captivated … [by] what an incredible love story they had," Chastain said. "And I loved Richard's famous quote about how 'Bulgari' was the only word Liz knew in Italian. I was just touched by everything about their love."
PHOTOS: See all the stars' stunning Cannes styles in one place — here!
Read More