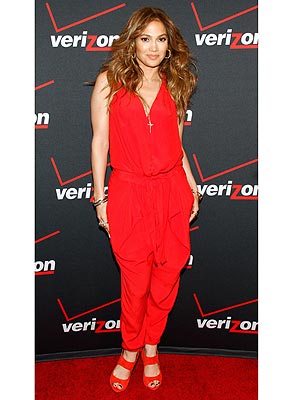 Ramey
We all know Tabatha Coffey, Bravo's sharp-tongued Aussie style pro, from her stint on Shear Genius and her latest hit, Tabatha Takes Over. And now, she's bringing her talents online, joining us at PEOPLE StyleWatch once weekly to dish on some of the best – and worst – celebrity looks of the week. Keep in mind the opinions below belong solely to the stylist … though she's probably saying what lots of you are thinking, anyway!
Today, she takes on Jennifer Lopez, who took a risk in a Vivienne Westwood jumpsuit for a Verizon event in Beverly Hills last week:
I have to admit it, I'm stumped this time.
I honestly am not too sure how I feel about this overall look for Jennifer Lopez. Half of me wants to love it, but the other half of me wants to scream and throw a robe on her! Maybe it's because I love me some Vivienne Westwood every now and then. But there is just something a bit off about this. Could it be the low-hung crotch that reminds me of her In Living Color Fly Girl days? Maybe the too-tapered ankles? Forget it, I'm stumped. Honestly, I could take it or leave it.