For the most part, it was a stunning, but relatively predictable, Oscars red carpet Sunday night (no dramatic capes, crazy hairstyles or wacky nail art to be found). That said, there were still several ladies who stood out in looks that will more than likely go down in Academy Awards style history — for good and not-so-good reasons. Let's discuss: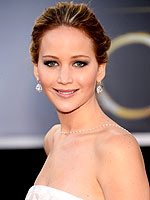 Kevin Mazur/WireImage
Jennifer Lawrences's everything: From her Dior Haute Couture gown (which we totally predicted!) to her stunning 74 carat Chopard necklace worn backward, the star was the night's big winner both on and off the carpet. Oh, and did you see the dress she changed into for the Vanity Fair after-party? Smoking hot.