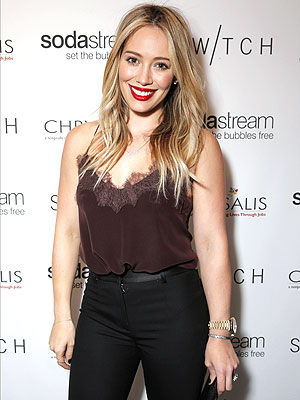 Todd Williamson/Invision/AP
Hilary Duff may regularly appear in our "Love Her Outfit!" gallery, but she thinks she needs to kick her personal style up a notch. Nearly two years after having son Luca, Duff says she wants get back to work — and to improve her image while she's at it.
"I'm getting ready to start working again, so I'm finally going to hire a stylist," she told PEOPLE at a Sodastream-sponsored event at Switch Boutique in Beverly Hills, Calif. (where she wore a Cami NYC top and black high-waisted jeans). "We'll see how [my style] changes. Two hours ago I put the kid down and threw this outfit together … when I'm working [my look] might be different when I have a little more help."
RELATED PHOTOS: See more star style we wanna steal in Love Her Outfit!
That doesn't mean we should expect a major overhaul, though. As Duff says, "I have a good perception of what I like, and what I don't like, and who I want to be, and who I don't want to be." And she's not going to return to her pre-baby days, where she might reach for something just because it was on-trend and not necessarily because she loved it.
Read More