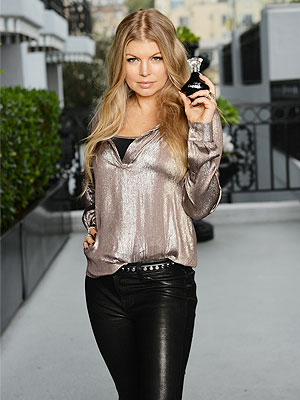 Courtesy Avon
A lot of work went into finding the perfect scent for Fergie's first fragrance, Outspoken. But all those months of effort couldn't hold a candle to Fergie's new favorite scent: Her five-month-old son, Axl.
"Nothing smells as good as my baby's skin," she tells PEOPLE. "I could just inhale him." But she says that her new favorite fragrance is just about the only thing that's different about her beauty routine. "I soften the points of my nails a little bit," she says, but you can still expect to see her out and about in the the glam-rock mode that's become her signature.
RELATED PHOTOS: What your favorite stars are wearing on the red carpet this week!
And that goes for her wardrobe, too. Her two most recent splurges? "A black leather Saint Laurent miniskirt with zippers, and a Givenchy leather corset," she says. "Not your typical 'mom wear,' but I love it!"
Fergie had just come from a photoshoot for Outspoken, where Axl was on set — "it was a lot of fun," she said. And all the fragrance talk had her reminiscing about certain scents from her past (which we bet more than a few of you will relate to).
Read More