Elle Fanning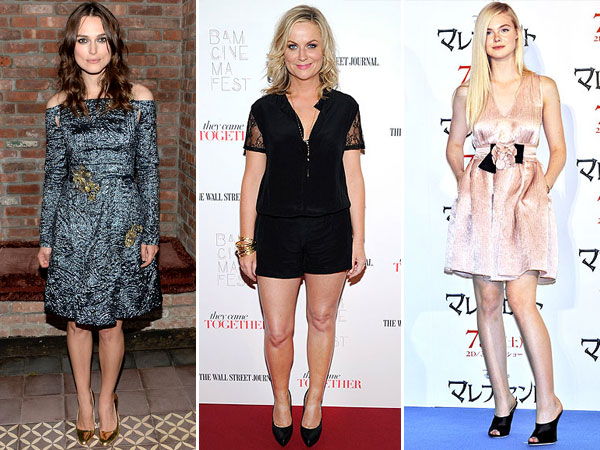 Andrew H. Walker/Getty; Ilya S. Savenok/Getty; Ken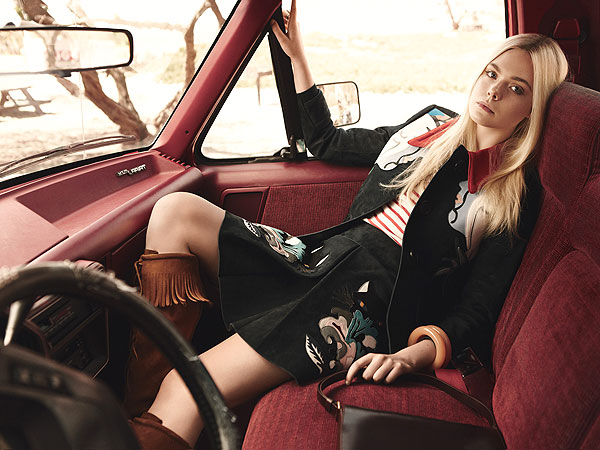 Courtesy Teen Vogue
Elle Fanning may be only 16, but she's already hit a ton of incredibly cool milestones on her life checklist. Her latest movie Maleficent dominated the box office this weekend, she's been a face of Miu Miu and Marc by Marc Jacobs and — as she proves in her Teen Vogue June cover story, she's got the right idea about being true to her style.
Read More
Angelina Jolie and Elle Fanning have been turning it out in the style department for the Maleficent promotional tour, and Wednesday's world premiere in Hollywood marked their most fashion-forward appearances so far. The co-stars continued to select red carpet ensembles that nod to their on-screen characters — Jolie as Maleficent, the evil fairy, and Fanning as Princess Aurora (aka Sleeping Beauty). Plus, their accessories were so major (or killer, in Jolie's case), we have to talk about them. See both actresses' head-turning looks — from all angles — below. Read More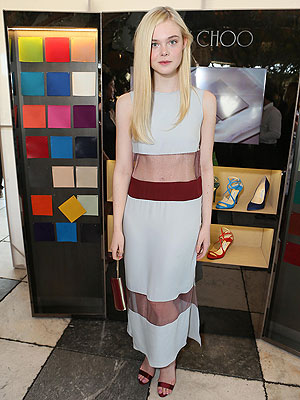 : Alexandra Wyman/Invision for The Hollywood Reporter
We love that Elle Fanning takes fashion risks. (Remember this tie-dye gown or her "flatform" kick?) And of course, when you're 15, anything goes. The actress proved that Wednesday at The Hollywood Reporter's 25 Most Powerful Stylists Luncheon in one of the most unique designs we've seen in a long time: a silk Wes Gordon sheath dress featuring a band of tulle around the stomach and on the skirt. Basically, she wore a high-fashion bikini, and we're fascinated by this new style development.
Now how exactly does one classify this look? It's definitely a cousin to the crop top. (Somewhere, a Kardashian is reading and having this dress shipped overnight.) And since midriff-baring is a huge trend, we're curious to see if stars follow suit with see-through stomach styles.
RELATED PHOTOS: Obsessed or Hot Mess? Vote on more questionable star styles
Fanning supported her stylist Samantha McMillen (who also styles Evan Rachel Wood and Johnny Depp) at the annual luncheon. The young star has definitely become someone to watch on the fashion scene, between her front row seats at designer shows in Paris and glamorous ad campaigns. Catch some photos below, and tell us: What do you think of Fanning's look?
Read More
–Selena Gomez discusses the time she lost her manicure V-card in this behind-the-scenes video of the photo shoot for her latest Nicole by OPI nail polish collection. [YouTube]
–This is the way the 'Snooki' crumbles, apparently: The reality star is livid right now. She's suing a perfume company in New Jersey for allegedly ripping off her eponymous fragrance line with a similar-smelling scent called "Snazzy." [TMZ]
—Pharrell Williams is designing a line of enormous sunglasses for Moncler that cover up so much of your face, the only place you're likely to get lucky wearing them is at a welding conference. [Complex]
–Move over Jo Calderone, there's a new male alter ego in town! It appears that Tyra Banks is adding another dude to the mix. [Instagram]
–What's more doe-eyed: Elle Fanning on the cover of Australia's Miss Vogue, or the image of Bambi on the Givenchy sweatshirt that she's wearing? [Fashionista]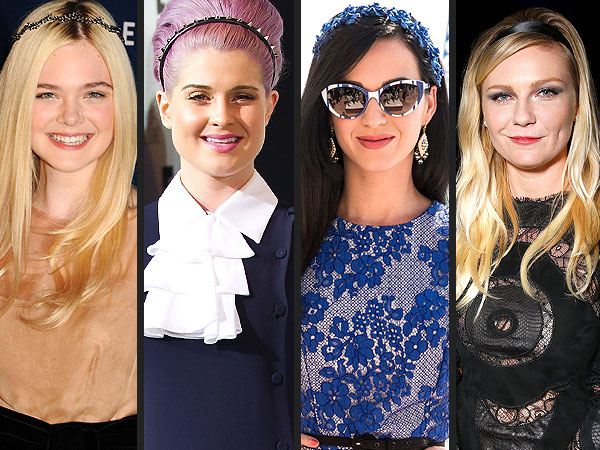 Wireimage; Filmmagic; Getty; Invision/AP
Q: What's super-adorable, takes almost no effort and can cost as little as zero dollars?
A: Adding a headband to your hair, as seen on these stars.
We love an elaborate braid as much as the next girl, but sometimes you want to get a "done" look in under a minute. That's why we're digging these four very different looks.
RELATED PHOTOS: Vote on even more awesome star hair looks here!
Prices of these headpieces range from $498 (Elle Fanning's Jennifer Behr "Delicate Vine" circlet) to "free if you just got a present" (Kirsten Dunst's black satin ribbon).
And we also love how uniquely each star has styled her look, from Fanning's tiara-like crown, to Kelly Osbourne's studded headband to give her updo a little more edge, to Katy Perry's traditional placement or her floral number, to Dunst weaving hers right behind her bangs for a schoolgirl style.
But the best part of all: This look works with nearly any hair length or texture, meaning there's no excuse for you not to give it a shot tomorrow. Tell us: Which headband are you most likely to wear?

–Alex Apatoff
Editors' Picks
More on Stylewatch
Top 10 Style Categories
Sites We Love