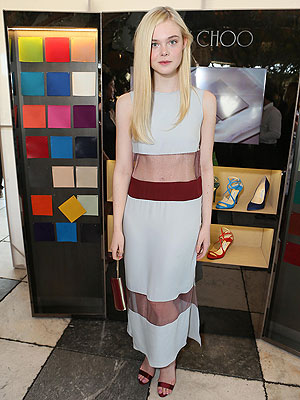 : Alexandra Wyman/Invision for The Hollywood Reporter
We love that Elle Fanning takes fashion risks. (Remember this tie-dye gown or her "flatform" kick?) And of course, when you're 15, anything goes. The actress proved that Wednesday at The Hollywood Reporter's 25 Most Powerful Stylists Luncheon in one of the most unique designs we've seen in a long time: a silk Wes Gordon sheath dress featuring a band of tulle around the stomach and on the skirt. Basically, she wore a high-fashion bikini, and we're fascinated by this new style development.
Now how exactly does one classify this look? It's definitely a cousin to the crop top. (Somewhere, a Kardashian is reading and having this dress shipped overnight.) And since midriff-baring is a huge trend, we're curious to see if stars follow suit with see-through stomach styles.
RELATED PHOTOS: Obsessed or Hot Mess? Vote on more questionable star styles
Fanning supported her stylist Samantha McMillen (who also styles Evan Rachel Wood and Johnny Depp) at the annual luncheon. The young star has definitely become someone to watch on the fashion scene, between her front row seats at designer shows in Paris and glamorous ad campaigns. Catch some photos below, and tell us: What do you think of Fanning's look?
Read More