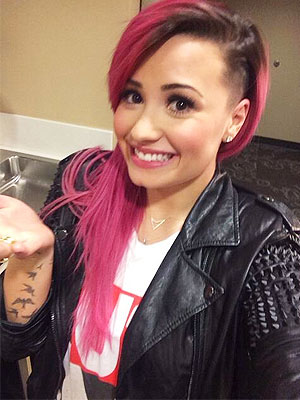 Courtesy Demi Lovato
In case Demi Lovato dyeing her hair blue, then pink, wasn't enough to convince you that she likes to have fun with her tresses, maybe this will: The singer just took an electric razor to her hair to expose a brunette buzzcut underneath that long magenta mane.
RELATED PHOTOS: See the best star looks from last night!
"IDGAF💗💋😝 #NEONLIGHTSTOUR," she captioned the photo at left (using an acronym to indicate "I don't give a [bleep]"). It was the second in a series of pictures highlighting her new half-shorn do (see the rest below).
Though her slightly abashed smile looks like she might, in fact, GAF, the subsequent shots made her look much more excited about her decision. Follow Lovato's journey from a full head of hair to a punky new do, and tell us your thoughts in the comments.
Read More