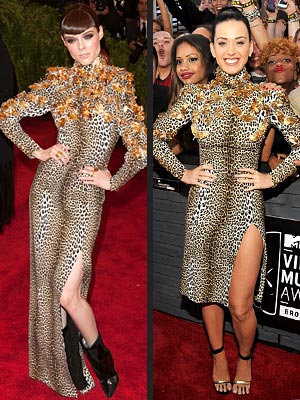 INF; Kevin Mazur/WireImage
Spotted: Katy Perry at the VMAs looking ready to roar in a high-necked animal-print dress dotted with sparkling golden dragonflies and butterlies along the bodice. And though they say a leopard can't change its spots, it apparently can loan them to another celebrity: Model Coco Rocha already took this dress for a spin earlier this year, at the Met Gala in May.
RELATED PHOTOS: Even more amazing Fashion Faceoffs here!
Rocha paired the long version of the Emanuel Ungaro creation with bangs and booties for the punk-themed event. Perry opted for a shorter hemline (naturally) and gold-and-black sandals, but she added an even punkier accessory: a gold-and-crystal grill on her front teeth that spelled out the name of her new single, "Roar" (check out the pic below!).
Read More