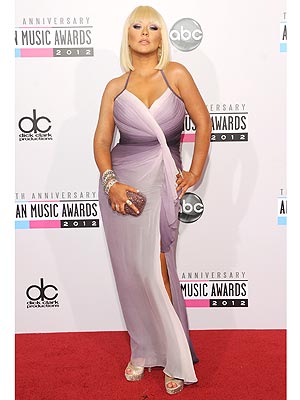 Jason Merritt/Getty
We all know Tabatha Coffey, Bravo's sharp-tongued Aussie style pro, from her stint on Shear Genius and her latest hit, Tabatha Takes Over. And now, she's bringing her talents online, joining us at PEOPLE StyleWatch once weekly to dish on some of the best — and worst — celebrity looks of the week. Keep in mind the opinions below belong solely to the stylist … though she's probably saying what lots of you are thinking, anyway!
Today, she takes on Christina Aguilera, who chose this Grecian Pamella Roland creation for Sunday's American Music Awards: 
Raise your hand if you think I'm going to be ruthlessly critical and judgmental about Christina Aguilera at the American Music Awards. Okay, now put those hands down because you're all wrong. She gets enough negative comments and reviews as it is and I'm not going to play into that kind of behavior.
Christina often faces criticism about her curves from the media, something I find to be unacceptable and beyond inappropriate. What I love is how she embraces her voluptuous physique. It's as if she is telling the media to go f*ck themselves.
I must say this dress is absolutely perfect on her. The ombré color is flattering and the nip at the waist really draws the eye in. The halter is also a smart move because it helps elongate her. Overall the dress accentuates her in all the right places. The clutch is a great match, but I'm not totally thrilled with the shoes. Don't get me wrong, I like the shoes, but not so much with this actual dress.