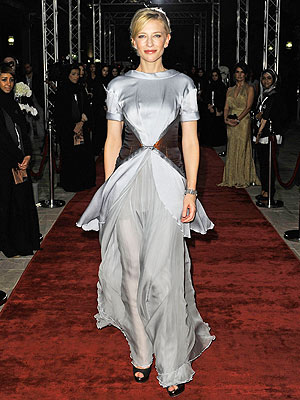 Gareth Cattermole/Getty
We all know Tabatha Coffey, Bravo's sharp-tongued Aussie style pro, from her stint on Shear Genius and her latest hit, Tabatha Takes Over. And now, she's bringing her talents online, joining us at PEOPLE StyleWatch once weekly to dish on some of the best – and worst – celebrity looks of the week. Keep in mind the opinions below belong solely to the stylist … though she's probably saying what lots of you are thinking, anyway!
Today, she takes on Cate Blanchett, who selected a Rodarte dress for the Dubai International Film Festival:
Well hello there Cate Blanchett, don't you look fantastic on the red carpet?!
I must admit, I initially did not like what Cate had going on in this photo. At first glance the dress looked a little "ick" for me, but that's so not the case. Within seconds I experienced a moment of clarity and said to myself, "Whoa, this is so elegant and quite becoming." I am so loving it, to say the least.