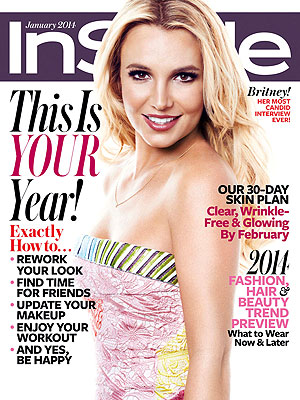 Courtesy InStyle
Britney Spears promised to get personal with her new album Britney Jean, and she meant it — if a very candid interview in January's InStyle (on stands Friday) is any indication.
In the profile, which follows Spears as she prepares for her upcoming Las Vegas gig, she answers reader questions about being a mom, growing into her style and sympathizing with Kim Kardashian for undergoing scrutiny while she was pregnant. On watching Kim get emotional on TV about the criticism, Spears says, "I was like, 'Bless her heart,' because I remember that time … That should be the time when your body is most treasured. I loved being pregnant for so many reasons, not to mention the sex is awesome then." Like we said: Very candid.
PHOTOS: What did stars wear last night — and was it a hit or a miss? Vote here!
That came out of a question about her super-fit shape, a result of the "tremendous physical demands" of the Vegas show. Though she decries the public body scrutiny, she does say "In this business, you make a deal with the devil … what I do calls for me to look good. People expect that. I kind of take it as my job."
Read More